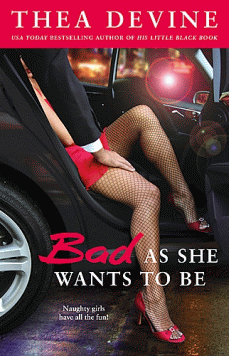 BAD AS SHE WANTS TO BE
Trade Paperback
Pocket Books
On Sale June 14, 2007


"I'm bored," Marianne said early one morning when they were in the after hours lounge of Cellar am:pm in the meatpacking district. Frankie shook her head groggily. How could Marianne be bored after hours of drinking and table dancing at a nearby club?
"We have to do something about this," Marianne went on.
Which meant, Marianne would do something about it.
Two nights later, Marianne called Becca and Nina to join them for a girlsí night out.
"We're going to a tasting party," she announced as they piled into a cab, all of them as sleekly dressed in satiny slip dresses and not much else. Less was more; skin was in; bling was verboten, the body was the story.
"Don't ask," Becca whispered to Frankie. "You'll see."
There was an element of excitement in her voice—Becca was stoked and Marianne was wired, an odd combination when Becca seemed the sanest of all of them. "Itís a private event," Becca added as the cab drew up to an industrial building within the shadow of the Manhattan bridge. "Come on, this will be fun."
Nina paid for the cab; Marianne had some sort of membersí key to the fifteen foot iron outer doors, and a moment later, they were in an elevator, rising upward to a floor where the iron filigree gates opened to a panoramic view of the East River that dwarfed everything in the high-ceilinged candle lit space, including the people milling and talking, drinking and eating finger food, and shifting subtly and purposefully from one guest to the next.
"Now this is what I'm talking about," Marianne said, leading the way into the crowd. Immediately, they were swarmed by a dozen good looking men introducing themselves and offering drinks. Nina immediately paired off while Marianne watched through hooded eyes, and Becca turned to Frankie.
"Choose your partner, Miss Innocent. This is a tasting party—not wine tasting —tongues. And here comes a sample ..." as a tall sinuous man who might well have been a model approached her. "Hello, lover," she murmured as he swept up into his arms ...
Bad as She Wants To Be
Trade Paperback
Pocket Books
June 2007
ISBN: 1416524169


E-mail Thea
Contact the webmaster