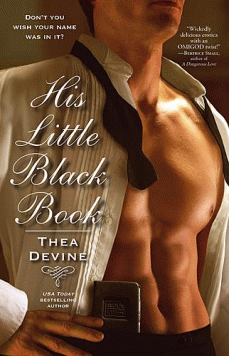 HIS LITTLE BLACK BOOK
Pocket Books
On Sale October 17, 2006


... "So this is your first day. What do you think?"
Brooke didn't know what she thought. Couldn't remotely conceive what he was thinking, except for the obvious. "Itís rather overwhelming."
"That it is," he agreed. "I love how pointy your nipples are. I'd ask to fondle them, but this is your first day, and I don't wan to ... overwhelm you."
Oh dear heaven. "Do you think you could?" she retorted.
"We could explore that option," he said, "but you're not ready."
Not ready? When her body was reverberating like a bowstring? And anyway, she was here to entice and lure a lover and here was a man looking for someone to fondle, fuck and perhaps something more. Why would she have a momentís hesitation when the end game was already in sight?
"Maybe I am," she whispered.
He put his hand on her thigh. "I have a feeling you're not."
How reckless did she feel? She couldn't let this opportunity go by, if he were attracted to her enough to engage in conversation with her.
"I'd like to find out," she said. "Otherwise, I wouldn't be here, would I?"
"Point taken, Brooke." He stroked her thigh for a moment, but he was at an awkward position to do anything more.
"So how does that work?" That was brazen.
"We'll just talk for a while," he said. "I'm not in that big a hurry."
Damn, she'd rushed that fence. Men like him probably didn't like take-charge women. "Of course," she said, "I'm not either."
"But I like the fact you're brand new. I'd like to be the one to try you out."
What to say to that? What a sly fox, chastising her for being too forward and then taking the bit and running with it. That told her something about him.
That, and the sudden spurt of his penis underneath his robe.
"I'd like to try you out too," she said finally, slanting a covert look at his bulging erection that he was working heroically to keep under control. She couldn't resist looking at it and she had the distinct feeling he wanted her to.
She shuddered at the thought of him penetrating her. He smiled and squeezed her thigh, fully aware she was creaming for him. She couldn't hide it, didn't know how to, didn't think she wanted to.
"Brooke?"
"Yes, Thane?"
"What are you thinking?"
"What you think I'm thinking."
He patted her leg. "Shhh. I'm in no hurry. So tell me about yourself."
"The fact I'm here should tell you everything," she said, wondering why he wanted to feel her out when he so obviously wanted to feel her up.
"And no oneís claimed you?"
She shook her head, puzzled. "No. No. This is my first day here."
"Good." He ran his large rough hand up and down her leg possessively and felt the convulsive movement of her body in response. "I think—yes, I think I'm going to claim you."
Dared she ask? "And what does that mean?"
"It means until I decide what to do about you, no one else can have you."
"Do about me?" Did she have no control? Did she really want it? Want him? Or just excitement of sex and arousal? "Have me?"
"Brooke—" he murmured just a little reproachfully as he got up. His massive erection jutted out enticingly from under his robe like a marauding lance. He braced himself over her and maneuvered the heft of his penis toward her mouth. Waiting to see what she would do. Daring her to do ...
She slanted a look at him. "Really, Thane, is this—?"
"Itís whatever I want it to be," he said roughly.
It was so quick, too soon; she didn't know, but a gratuitous penis suck with a potential lover was something she shouldn't reject. Not here, not now.
Or was it a test?
She closed her mouth around the pliant head; it filled her right up to the back of her throat, deep and hard, the way it would fill her cunt. She pulled at him, sucked, licked and enveloped him until she felt his body tighten and he spurted a lick of semen that she swiped with her avid tongue.
He jerked his penis from her greedy mouth. "I'm interested," he murmured, his voice hoarse with the onset of pleasure denied. He reached for her right breast and compressed her nipple between his fingers.
She grasped his penis shaft as she arched upward in a shock of pleasure.
"I'm very interested." He squeezed the nipple gently. "What about you, Brooke? Are you interested?"
"Yes," she whispered.
"Good." He tweaked her nipple again. "Go see Vanessa. I'll call you—soon." And he was gone, as abruptly as if he had broken a telephone connection.
"Omigawd ..."
The voice was right next to her, and she saw that one of the other women had taken Thaneís place beside her.
"Do you know who that is?" the woman asked in a hushed awed voice.
Brooke shook her head.
"Thane Bohansson. The media mover and shaker. The power behind the power. The man who out-Sumners Sumner Redstone."
"Oh!" Oh dear heaven. Who hadn't heard of him? "Oh. Well."
The woman extended her hand. "I'm Lonita. You're new."
"I'm new. Brooke. So—what does interested mean?"
"Okay. This is how it works. When one of them is interested, Vanessa puts your name in his little black book. Then no one else can claim you until heís decided whether things will go further. He'll then wine you. dine you and fuck you. If you're good, if you're smart, if you're accommodating, he'll want to keep fucking you. With all that entails. So—my best advice? Be smart. Real smart."
"Got it,í Brooke murmured on a shiver of anticipation. "I can do smart ..."
His Little Black Book
Pocket Books
October 2006
ISBN: 1416524150

Excerpt

E-mail Thea
Contact the webmaster