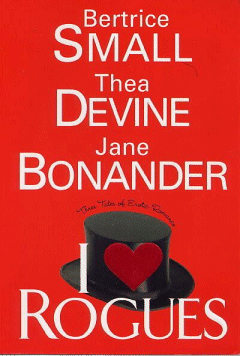 I LOVE ROGUES (anthology)
"All the Secret Pleasures" novella
Kensington Brava
Trade Paperback
December 2003
ISBN: 0-7582-0419-1
Meantime, she had hoped to see Simon at the next succeeding event, an evening of music at the home of Lord and Lady Luscombe. Here too it was as much a crush as everywhere else in the high ceilinged ballroom, but this night, only the lightest refreshment was to be served.
It was one of Corinna's favorite entertainments because she did not have to make small talk, or be involved with anyone she didn't wish to. It was an opportunity to be seen, to be kind and courteous, to renew old acquaintances still further, or—if she chose—to not talk to anyone extensively at all.
But above all, she had thought it would be the next time she would see Simon, and that did not prove to be the case.
The depth of her disappointment shocked her, and she tried to shake it off. It was too soon to feel this urgency, and especially only after one kiss. It was too much to want it this keenly, this acutely. It felt almost painful, and yet, it hadn't been but a day or two since she had seen him.
Kissed him.
No, since he had agreed to ...
What exactly had he agreed to?
To be willing ...
She caught her breath. Willing—
She looked around at the flower girls as everyone milled in the reception room at the end of the performance. Who among them was willing? Who among them could stand toe to toe with any of the lofty bachelors on the prowl this season?
She could have done had she not pursued Woodholme with such single-mindedness. She could have been among them, all those years ago, showing them how, and leading the way.
No pretensions now. Or ever. She had always gone after what she wanted, and what she wanted was Simon, right now, and he was nowhere around.
She bowed and spoke to a dozen people as she made her way to her hosts to relay her appreciation for the evening; and by the time she got to the door, her carriage was already in front of the townhouse.
She climbed in dispiritedly; the footman closed the door, enveloping her in a surprising darkness, and she was summarily pulled down onto the seat and her hands tied behind her with rapid expertise as a disembodied voice whispered in her ear. "Shhhh, my lady—shhhh. There is nothing to fear ..."
Simon? Her heart started pounding wildly as she put up a vain little struggle against his strength. A moment later, those same expert hands wound a blindfold over her eyes, and then turned her toward him, wound his arms around her, and pulled her up hard against his body.
"Who are you?" she breathed, all consumed with a combination of uncertainty and excitement, helplessness and potency, because he had come, and her desire and his willingness were powerful enough to make him come.
She could feel his heart pounding, feel the radiating heat of his body, his broad chest against which she lay.
"Call me ... call me your shadow lover, my lady. During the day, I am a proper man seeking a proper wife, but by night, I am your lover in the shadows, dominating your body, demanding your sex, where no one can see ..."
He crushed his mouth on hers, ravaging hers with his tongue, seeking, sliding, boring into the wet heat of her, and then pulling away to whisper against her lips: "I will always take you in darkness. You will never know when I will come. But I will come ... and I promise you will come—if you can accept those terms."
Could she? A lover in the shadows whom no one would ever know. Their every encounter in the darkness with her bound and open to him, her sex a siren call to his mastery of her body? Had she bargained for this when she had enticed him into willingness? This suddenly had become a level of sensuality that was terrifying and galvanizing all at the same time. So easy to be seduced by it. She wanted to willingly submit to it.
His lips and tongue were even now making a trail of hot wet hot persuasion across her lips and on her tongue, cajoling her, seducing her, sucking her in.
The utter mystery of the dark enfolding her, binding her, so that what he willed became her desire to feel, to experience, to know.
Was she willing? Her senses, whipped to a frenzy just by this one dark encounter, clamored for more. Her body shuddered with anticipation, her every nerve ending quivering, seeking, needing him to touch, stroke, fondle, anywhere, any part of her body that he wanted.
And every part of her was clothed, bound, constrained.
She could barely swallow, barely say a word, she was so aroused by just his words and her own helplessness against his potent strength.
"That was what you wanted, wasn't it, my lady?" He swiped her lips against with his tongue. "A lover in the shadows to fill you up with his manhood and his seed? One you don't have see, or to be attached to, or even speak to—just a willing body and a hard penis, isn't that just what my lady needs?" He nipped her lower lip. "Thus my lady's shadow lover is born, of a wish, a whim and a willingness ..." He kissed her then, that crushing crashing kiss. "... to lie down in the darkness with the need and the lust—"
"Yessss ..." it was barely a breath against his ravaging lips. "Yes. Yes. Yes. I want more ..." In the darkness. The voluptuous anticipation, the not knowing where and how he would touch her, kiss her, feel her. If he would caress her and arouse her. If he felt the same uncontrollable lust for her as she felt at this moment on the precipice...
I Love Rogues (anthology)
"All the Secret Pleasures" novella
Kensington Brava
December 2003