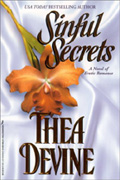 SINFUL SECRETS
Kensington Books, January 2001
London —1885—
A city seething with respectability, but under the veneer, vice abounds and evil lurks, waiting for a victim, waiting to pounce. It is a volcano, on the verge of erupting, the contaminating corruption hidden by an ever present fog that hovers and covers — just barely revealing the outlines of an indulgent and sybaritic society that wants to blanket its sinful secrets in a cloak of propriety
... And on Kabir, a fortress in the clouds —
... He had never felt such consuming fury as he watched the women captives parade passively by. There was nothing he could do — nothing.
They were all subjects of the Begoun to do with what he would. Their names were lost on him, their naked bodies all looked depressingly the same, rouged up, garnished with jewels and utterly sexless.
And yet they were there to entice the Begoun, to be objects of passion with no right of refusal, no other desire than to please the enigmatic despot seated in the kiosk.
He had seen it before, but never flaunted like this. In other courts, in other places, he had been introduced to the slaves of harem in ceremonious entertainments similar to this; but always the women were protected in modesty from the prying eyes of every man.
But this - this was an outrage, a humilliation to be paraded in front of the guest of honor like a prize mare. A broodmare.
He heard the names — there was an Englishwoman with self-assurance; a second, a rabbit; a third one, passionate, swaying her hips as she circled back to the colonnnade.
"Sayra..."
She moved out of the shadows of the colonnade like royalty, her head held high.
He couldn't take his eyes from her. Such dark flowing hair; her naked body perfect and proud, adorned only by a collar of gold around her neck; her dark eyes flashing; her long strong legs — he envisioned them cradling... who?
I want her. Jesus God —I want her...
She was too arrogant that one. The Begoun would kill her sooner than bed her.
And kill him without blinking an eye for his traitorous thoughts.
She came closer and closer, and her gaze passed from the shadowy Begoun to Shihab whose face was frozen in horror and finally rested on him.
He met her eyes squarely.
I will help you. Somehow — I will help you...
He had never wanted a woman the way he wanted her. And I will have you.
He'll kill us both — but I will have you...
Sinful Secrets
Kensington Books
January 2001
ISBN: 1575668246

E-mail Thea
Contact the webmaster